I don't know about you but when I look around lately, life has gotten really busy! It reminds me of the scene in the first Matrix film where Neo is walking against a crowd of 'suits' and struggling to find a route through the mass of bodies without getting shoulder barged like he is invisible. I wonder how many people can relate to that scene when undertaking their morning commute to work…
So, when that person steps off of the street and into their office, it is clear to see why a favourable work environment will help that person feel more relaxed and ready for a day of work. A recent survey by Accountancy Age suggests that the average British worker will spend 34 hours and 26 minutes working every week (remember: that is average so there will be plenty of people who spend more time doing this!). 188 days are also spent, on average, doing overtime.
A different article written by The Independent puts even more into these times but what is also interesting is that the average British person also thinks about quitting their job 16 times per year.
Why so much dissatisfaction?
I won't even go into how many rounds of tea and coffee the average Brit drinks at work either…
When considering these stats, a good business owner will go to some lengths to ensure a favourable working environment. Some general ideas:
A water cooler to ensure hydration
Some nice greenery and plants scattered around can be uplifting
Ensuring a tidy workspace creates a calmer workforce
These are quite obvious of course but all add to the ambience and need to be considered.
2020 Furniture Design can assist businesses even further by supplying furniture solutions to create stylish and practical offices that the staff enjoy working in during specific tasks. Here are some examples:
SESSION- MEETING SPACES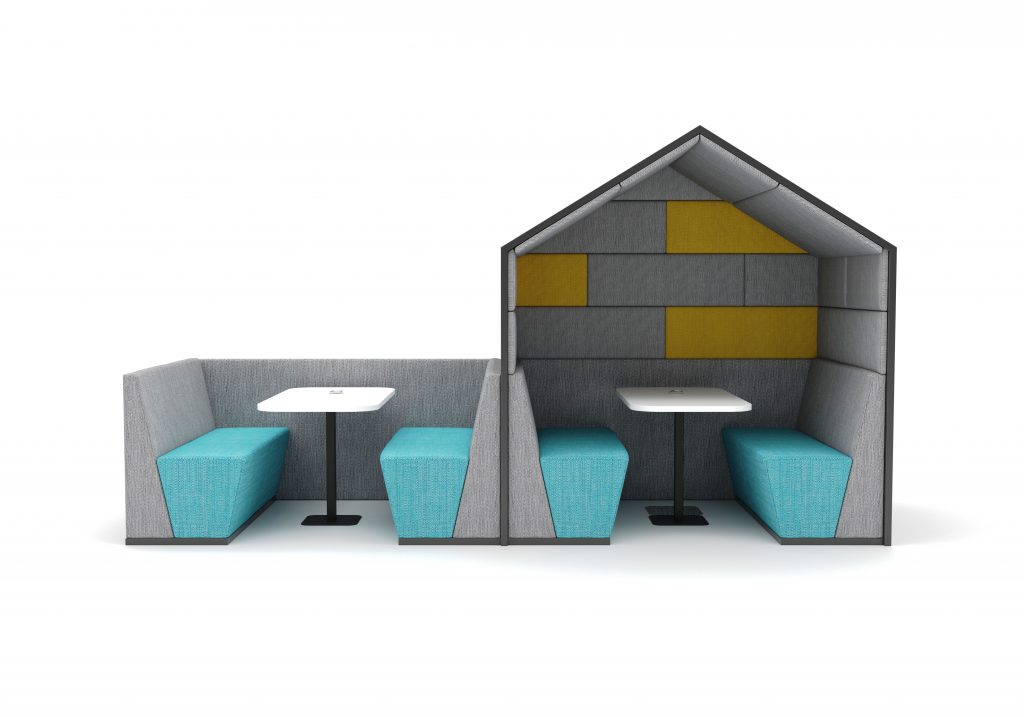 If staff need to meet frequently to collaborate then Session meeting booths provide closed off areas for small or informal meetings. The roof booth option allows for further privacy and noise reduction and allows staff to be separate from the rest of the workforce but without feeling like they are completely cut off.
MULTI FUNCTIONAL SPACES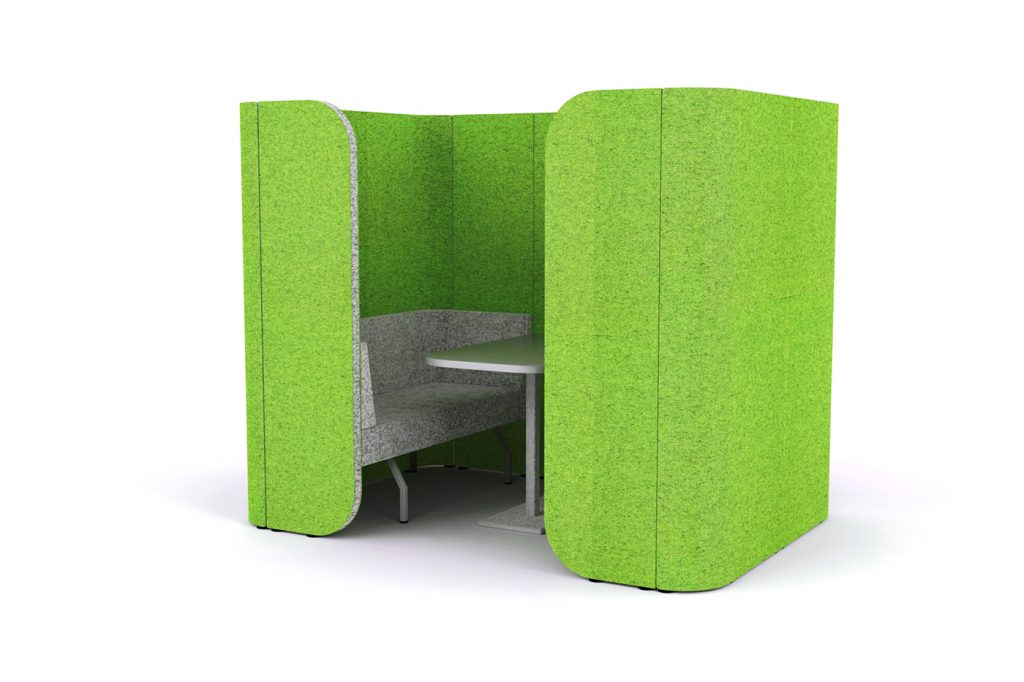 2020 Furniture Design produce a range of acoustic screens from fixed-to-desk to freestanding to mounted on castors. Acoustic screens can give a large office space versatility by giving space options depending on how many delegates are required for a particular meeting or activity.
Acoustic screens can also be used for individual benefit too. There is little more frustrating that needing to concentrate on a complicated design or report and getting interrupted by external stimuli like noise and visual interference.
BANQUETTE SEATING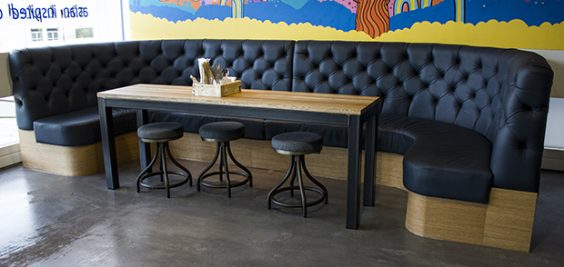 Banquette seating can also be known as fixed or bench seating. Another speciality of 2020 Furniture Design: banquette seating is a popular choice in dining area like restaurants and universities (see example image of Warwick University) but also in office building restaurants. Along with the obvious comfort and style comes a layout that often focuses on a central area like a table and is perfect not just for dining but conducting informal meetings over a coffee or lunch and encourages an environment where all persons present can easily speak with each other whilst maintaining face to face contact.
RECEPTION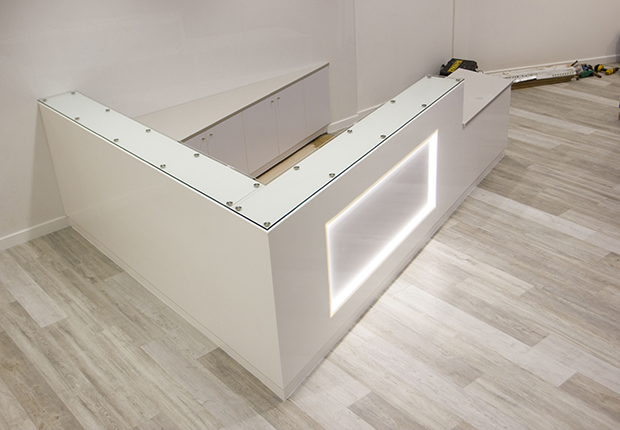 This case study from Enterprise Inns demonstrates style with clean lines. 2020 Furniture Design adhered to a design specification that blended a modern reception desk with the immediate environment whilst making use of an abstract shape. Note the use of the angled back wall for added storage as well as the wider, lowered frontal area for seated work or to house point of sale or stationery.
This clean environment assists the reception staff to be able to organise their work area with maximum storage whilst maintaining a clean and tidy environment- certainly a requirement for such a public work area. Light colours blend with the décor and give good visibility and the right ambience whilst the bespoke contained lighting on the front of the desk provides a focal point that draws the attention of those needing to find reception.
When choosing a designer and manufacturer of commercial furniture it is important to ensure that they can provide not just a comprehensive product and service but also the ability to interpret the existing structure and improve upon what is there whilst ensuring a positive environment for those who will spend a lot of time working there.
Take a moment and consider your workplace: maybe it is time for an upgrade….
Contact 2020 Furniture Design through our contact page if you are considering a refit or design project.