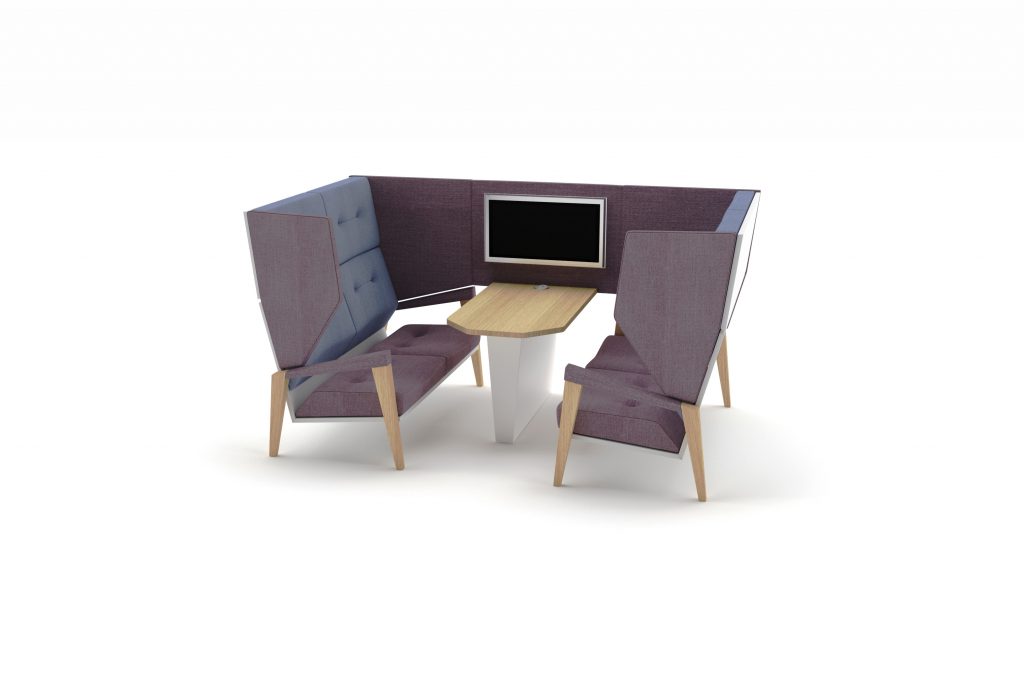 Offices are the environment of communication, be it through technology, telephones or in person. According to The Muse, if you are a middle manager, you could be spending up to 35% of your working day in meetings. If you are upper management that may increase to up to more than 50%. It is therefore clear to see that with this much time potentially being spent in one particular room that that room should be designed and laid out with productivity and comfort in mind. This article considers those businesses who need meeting smaller and more intimate meeting spaces.
SOME CONSIDERATIONS:
When planning the implementation of a meeting space there are some key facts that should be considered in order to get the best out of this investment:
LENGTH OF MEETINGS- if meetings are likely to go on for a long period of time then chairs should ensure comfort and be fit for purpose (more on this later). What facilities will be required for meetings, discussions or presentations?
NUMBER OF DELEGATES- the required number of seats or space is a clear deciding factor when choosing seating, desks or systems like pods or booths.
REASON FOR MEETINGS- does your business hold conference type meetings or does it need to be designed more for a client facing environment? Will the meeting space be somewhere for collaborative thought? Should the furniture allow for adaptation for either type of meeting? Do your staff use this space for discussion or creative brainstorming and therefore would benefit from sofas and a more informal environment.
LOCATION- How much space do you have at your disposal in your building? Do your staff need frequent access to meeting spaces or should it be in a room further away from the workforce for privacy and quiet? If concentration and focus is needed should a meeting both have a roof and/ or higher sides to reduce noise interference and pollution?
PURPOSE OF FURNITURE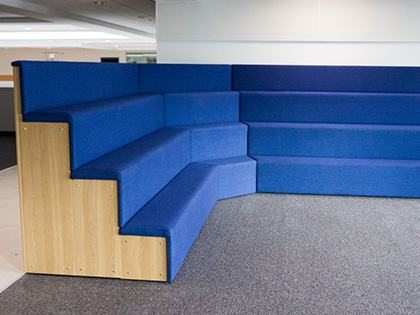 A meeting space is much more than just walls with a table and some chairs. As stated earlier, with the amount of time that staff and management spend in meetings, consideration must be taken into all aspects of the use of meeting space. Consider the following:
CHAIRS- should chairs have legs that keep them facing inwards around a central table or will they need to turn or swivel in order to view a screen/ presentation? If the latter is a possibility then the option of seating mounted on castors will need to be considered (as well as the optimum position for a presentation screen). Does the meeting booth need plug sockets and USB ports? Will lighting and electrical items be installed?
CLICK HERE TO CONTACT 2020 FURNITURE DESIGN TO TALK ABOUT YOUR MEETING SPACE NEEDS
STANDING DESKS– Fancy a 53% boost in meeting productivity and a 25% reduction in meeting time? Research shows that standing meetings could be the answer. This could be a popular option for creative businesses like graphic design agencies and so height adjustable tables or high-level tables will need to be considered.
STORAGE– the meeting space may have to house other facilities and consideration should be made as to how this will be achieved. Can cupboard spacing be added for stationery, documents or refreshments? Can shelving be used more efficiently? Will shelving be used for plants or ornaments for aesthetic effect?
SOUND TECHNOLOGY
If the meeting space requires audio/ visual presentations then consideration will need to be made to the acoustics of the space, especially if it is a large meeting area. There is a huge range of technology available on the market now and although this is not something that 2020 Furniture Design offer, we would still strongly encourage you to source quotes accordingly so that your board room houses good quality equipment.
What 2020 Furniture Design can offer is wall mounted or free-standing acoustic panels. Wall mounted acoustic screens can be used to improve the quality of sound and to reduce noise pollution allowing people to better absorb information. If the meeting space or room needs to be sectioned off according to meeting size then free-standing acoustic screens with castors would be a better option.
ROOM DESIGN
A meeting room should enhance your company or corporate identity. This is especially important if you will be bringing outside visitors in to your building. Consideration to the layout, design and functionality of your meeting space is fundamental. Furniture should promote and compliment the décor via its texture, material, pattern and style and furniture makers and suppliers should be able to accommodate accordingly.
2020 Furniture Design ensure that room design is optimised by offering a full design service on a job by job basis to ensure that you get the most out of your meeting room, space or booth and you can see specifications and designs before the project even begins.
CREATIVE EXAMPLES
Need inspiration for your meeting room project? Check out these images: